Fundraising
Help us raise funds to enhance our STEM (Science, Technology, Engineering & Math) programs. It's a win-win; you order beautiful products & Orangeburg Prep School meets their fundraising goal. These make wonderful Easter, Mother's Day and Graduation gifts!

Every order counts, and supporting us is easy. Click here to shop online. 
Our school has partnered with Charleston Wrap for our major fundraising campaign this year. There are over 500 high quality items to choose from and every purchase you make earns much needed money for our school.
Simply click https://www.charlestonwrap.com/shop-now.php
All items purchased will ship directly to you and there is free shipping on all orders over $75. First, register your student and a six digit code will be automatically generated for your student to earn prizes during our fundraising campaign. Then click on the "SHOP NOW" button that will take you to the "Assign Credit & Shop" section. If you wish to assign credit to your student, enter the six digit student code into the "Student Code" section. If you don't want to assign credit to a particular student, simply enter your school's four digit code in the "School Only Credit" section and the school will earn credit from your purchases. You can even support the school year-round after the sale is over by simply using the four digit school code. Our school's/group's four digit code is: 11463
Office DEPOT OfficeMax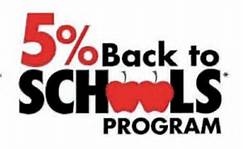 Simply make a purchase of qualifying products, provide our school ID at checkout, and OPS will receive 5% back in credits for FREE supplies. It's a small act that can make a huge difference.
OUR Office Max / Office Depot SCHOOL CODE IS 70091050
Fundraiser ID# 174458
Did you know Orangeburg Prep School can raise money by shopping online all season long, starting now? Help us raise funds for a great cause. Every order counts and I'm hoping you can take a moment to shop online & support Orangeburg Prep School.
Just click here to shop & support us! Please make sure our ID# 174458 and seller name are entered at the top right corner.
Happy Shopping,
Orangeburg Prep School
Amazon Smile
Remember Orangeburg Prep when doing your online shopping! 
General Mills Box Tops for Education
Support our ATP by clipping and sending your "Box Tops" to your homeroom teacher or school office. Also, visit www.btfe.com and set up your own account for additional savings for you and earnings for Orangeburg Prep. You can even track our progress and see how our earnings compare to other schools. Thanks for your support!
Bi-LO