Alumni
If you have not been receiving newsletters or alumni emails, please email pedwards@orangeburgprep.com
CLASS REUNIONS
Contact Sandy Reed, sreed@orangeburgprep.com, to post a class reunion,
or call the school office (803) 534-7970.
Wade Hampton Academy CLASS OF 1970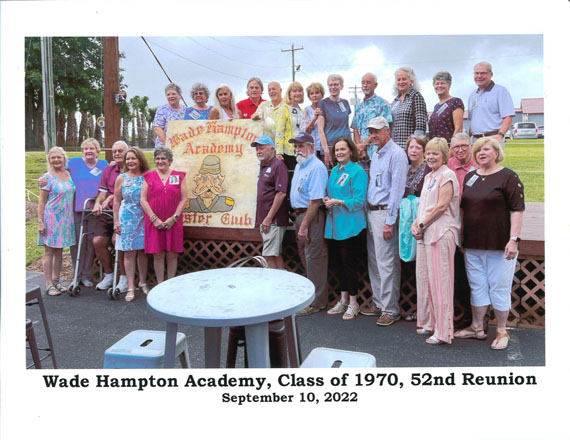 CLASS OF 1990 and 1991 REUNION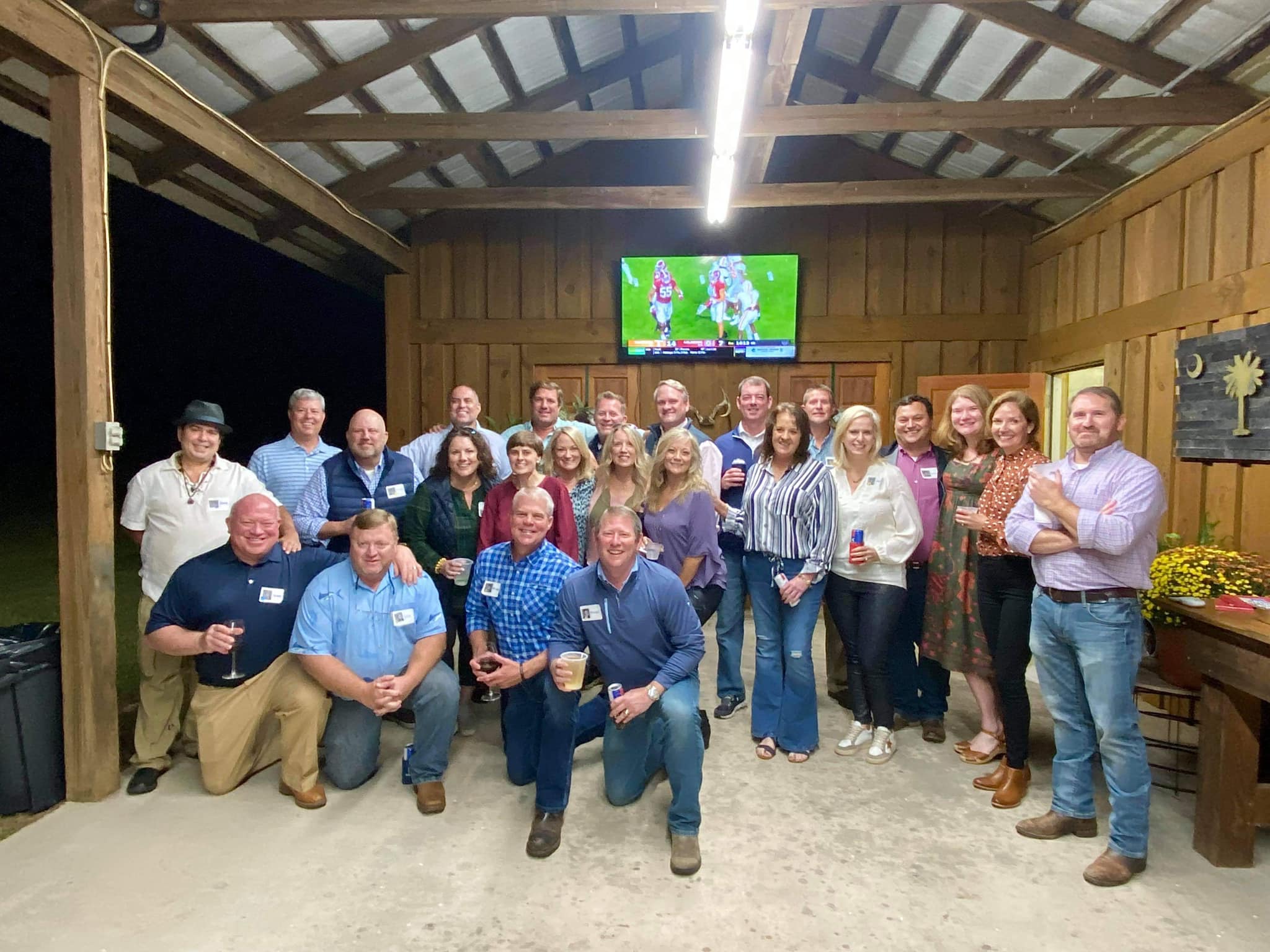 CLASS OF 1979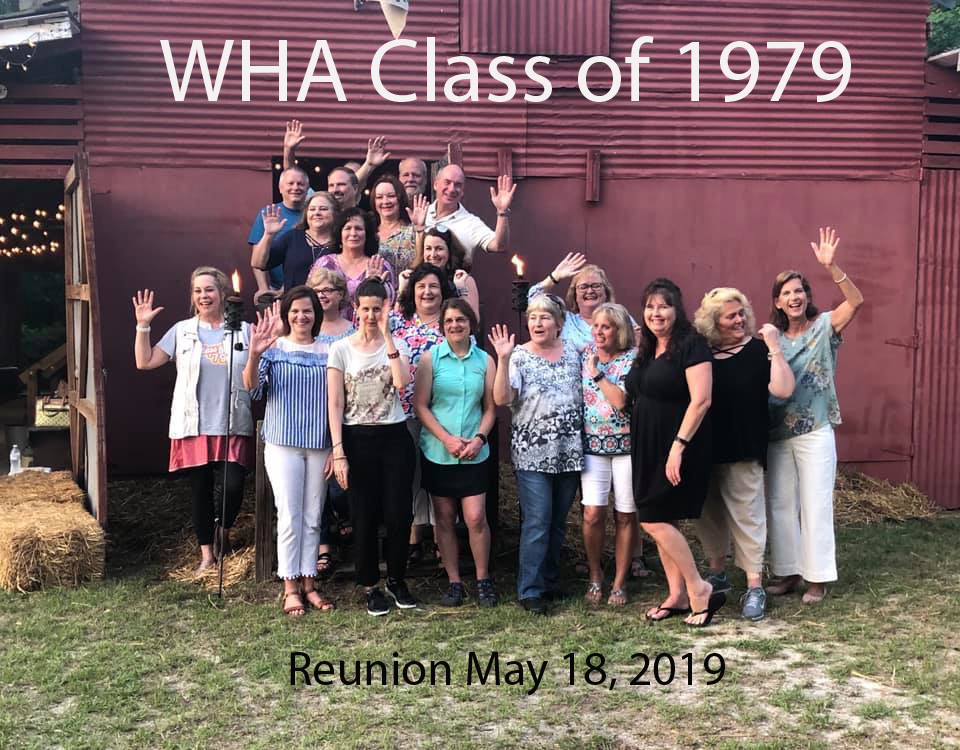 Wade Hampton Academy Class of 1969 Celebrates 50th Reunion
Members of the Wade Hampton Academy Class of 1969 celebrated their fiftieth reunion with a party on Saturday evening, March 9, at the home of Dan and Angie Hydrick. In addition to Dan Hydrick, members of the planning committee for the reunion were Millie Warren Brunson, Kathy Brodie Chaplin, Martin Gilchrist, Michael and Susan Keitt Moss, Connie Carter Porter, and Jeff Reid, assisted by Angie Hydrick and Janet Gilchrist.
Out-of-state classmates in attendance were Lynda Tyson Jayne from Brevard, North Carolina and Beverly Linder Rimer from Maricopa, Arizona. Those present from South Carolina were Carol Blackmon Boykin, Irmo; Dewise Altman Bailey, Mount Pleasant; Kathy Clark Suit, North Augusta; Sheri Hollis Jewell, Aiken; Susan Keitt Moss and Michael Moss, Cameron; Gail Linder Allen, Clinton; Ellen Marcus Smith, Susie Wannamaker Justice, Phyllis Zeagler Inabinet, and Bobbie Myers Burgess, Columbia; Jeff Reid, Fort Motte; Susan Salley, North Myrtle Beach; Roger Wiles, Hopkins; James Simons, Holly Hill; and Kathy Brodie Chaplin, Connie Carter Porter, Martin Gilchrist, Dan Hydrick, and Millie Warren Brunson, Orangeburg. On a memorial table four white candles burned beside a framed list of four names in remembrance of the four deceased classmates: Ladson Boone, Barry Tyler, Anne Shecut Parker, and Anne Moss Key.
Before a light supper was served, host Dan Hydrick welcomed class members and their guests and asked a blessing which included a prayer for those who were unable to attend.  The banquet table laden with party food was centered with a massive floral arrangement in a silver pedestal urn. The beautiful centerpiece, a gift from Janet Gilchrist, was dominated by red roses and white roses and accented with lilies, Bells-of-Ireland, and purple mums. A secondary table stood nearby with an assortment of desserts. Laughter and reminiscence were the hallmarks of the evening which was an occasion designed for old friends to share.
The Wade Hampton Academy Class of 1969 is a class characterized by pride, spirit, and camaraderie. Previous reunions were held in 1979, 1984, 1989, and 2009. In 2009, on the date of the fortieth reunion, Mayor Paul Miller proclaimed March 14, 2009 Wade Hampton Academy Class of 1969 Day in Orangeburg. The proclamation provides a concise history of the outstanding class which owns an unprecedented list of firsts. The WHA Class of '69 was the first class to produce a senior class play, the first class to take a senior class trip to Washington, D. C., and the first class to elect a Homecoming Queen and sponsor a Homecoming Dance. The first Festival of Hearts was held in 1969, and the first student newspaper was published in the 1968-69 school year. The Wade Hampton Academy Girls Basketball team won both the State Championship and Sportsmanship trophies in 1969. Finally, the Class of 1969 was the first class to graduate in the newly constructed McAlister Gymnasium. Indeed, the WHA Class of '69 has bragging rights for a long list of accomplishments, but the greatest source of pride, most would agree, is the general affection among the classmates.
Class of 1988
The Class of 1988 had their thirtieth class reunion on  September 18, 2018 at Lake Murray.  Twenty-three class members were present. Everyone had a wonderful time of catching up on fellow classmates.
Class of 1994
News from Orangeburg Prep Class of 1994 Reunion
The reunion was held January 22nd, 2011, at the Williams Family Cookhouse in Orangeburg, S.C. It was a blast - thanks to all who made it. We missed a lot of you. It was fun to see everyone, catch up, and meet with each other's families. Click here for pictures! The next reunion will be 2014, our twentieth reunion! A donation to Orangeburg Prep was made on behalf of the class.
Class of 1992
Twenty nine classmates from the Class of 92 and their families attended their 25th high school reunion in Orangeburg the weekend of July 15th. The planning committee scheduled several activities over the weekend such as a drop-in at Rosalia's Mexican restaurant on Friday, July 14th. Saturday morning, several classmates attended the scheduled school tour at upper campus and enjoyed seeing the changes at the school. The room that got the most laughs was the detention hall classroom. Not a bad place to be in detention hall. Saturdayevening, classmates Leigh and Jason Hawn hosted the reunion dinner at the Cox Farm where 29 classmates and guests enjoyed a catered BBQ dinner and live music while old school vidoes played on an oversized outdoor movie screen. It was a fun evening catching up with classmates and reminiscing about the early 90's. Jason Chatraw, who lives in Idaho, traveled the farthest to attend the reunion with his wife and 4 children. Due to the great turnout and the generosity of Leigh and Jason Hawn, the class of '92 made a $500 donation to OPS' School Technology plan.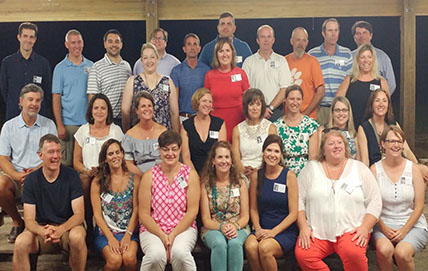 Reunion at Cox Farm - July 15, 2017
Lt to Rt.
Front Row: Jason Chatraw, Susan B. McLure, Laura B. Fogle, Andrea W. Creech, Rebecca G. Cummings, Leigh J. Hawn and Harriett S. Kinsey
Middle Row: Andy Delaney, Robin B. Blackwood, Marti M. Hanson, Anna. H. Barwick, Roseanne F. Koellner, Andrea W. Darsey, Carol Lynn Fogle-McCuen and Kirsten D. de Brux
Back Row: Andy Brock, Jim Johnson, Wilbur Barwick, Stewart C. Hendrix, Robert Self, Jason Hawn, Catherine B. Ayers, Chris Kinsey, Shane Sanford, Willis Felkel, Benji Hughes, Katie D. Hall, Pinkney Thompson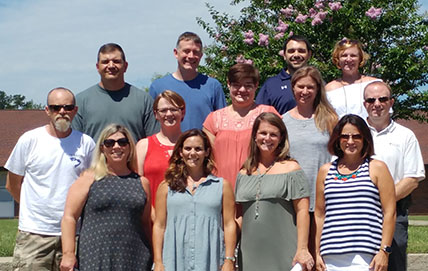 School Tour Picture in Amphitheater - July 15, 2017
Left to right:.
Front Row: Katie D. Hall, Susan B. McLure, Marti M. Hanson, Robin B. Blackwood
Second Row: Willis Felkel, Harriett S. Kinsey, Laura B. Fogle, Andrea W. Darsey, Shane Sanford
Back Row: Chris Kinsey, Jason Chatraw, Wilbur Barwick, Anna H. Barwick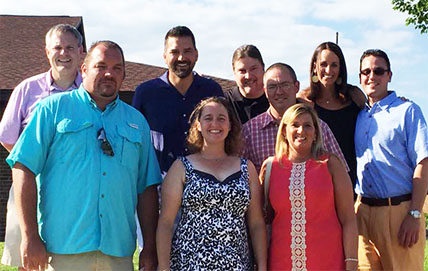 Class of 1991
The Class of 1991 gathered on June 18, 2016, at OPS for their 25th Class Reunion.  It was a great group of friends who reunited after all these years!  It was really great to see everyone and catch up on some fun times.
Pictured left to right front row:  Jason Cote, Manette Cone Kaufman, Ashley Sandal Ray.
Back row:  Richard Lackey, Luke Bonnette, Jeff Williams, Brian Henson, Tiffany Tatum Rowland, Michael Gingrich.
Class of 1978
News from Wade Hampton Class of 1978 Reunion
Why did the WHA Class of 1978 celebrate their 32nd high school reunion in May 2010? Why not celebrate on the 30th or 35th year? That's what normal high school classes do, right? Well, the simple reason is that it is very hard to round up all the contact information of those long-ago classmates and even more difficult for the planners to get it all together in a timely fashion!

Nevertheless, the graduates from Wade Hampton Academy 1978 gathered at the Mid-Carolina Gun Club on May 16, 2010 for a Beaufort Stew supper and some music from the good 'ole seventies. Class members decided to donate a sizeable percentage of the remaining funds after expenses to Orangeburg Preparatory in memory of four of its classmates; Dree Pace, Tim Garrick, Randy Creel, and David Howe.
The WHA Class of 1973 has created their own website. Click below for information and to view their photo gallery.
Class of 1969
News from the Class of 1969 Reunion
On Saturday evening, March 14, 2009 the Wade Hampton Academy Class of 1969 held its fortieth reunion at the home of Jimmy and Millie Brunson. Lovely in every detail were the arrangements of spring flowers and roses designed by Susan Keitt Moss and placed throughout the house. Classmates and their guests were greeted by the Brunsons and other members of the reunion committee: Kathy Brodie Chaplin, Dan Hydrick, Michael Moss, Susan Keitt Moss, Martin Gilchrist and his wife Janet. A sumptuous cocktail buffet featuring shrimp and grits, beef, and pork was served.
At the request of Dan Hydrick, the Honorable Paul Miller, Mayor of Orangeburg, paid a surprise visit to make a special presentation. On behalf of the City Council and the citizens of Orangeburg, the mayor issued a proclamation declaring March 14, 2009 as "Wade Hampton Academy Class of 1969 Day" in Orangeburg. An individually signed proclamation was given to each class member present.
Twenty-one from the Class of 1969 and their guests gathered to celebrate the reunion. Out-of-state class members in attendance were Anne Culler Reeves, Tallahassee Florida; Sam Galphin, Raleigh, North Carolina; Angela Morris Jones, Coral Gables, Florida. Those present from South Carolina were Dewise Altman Bailey, Isle of Palms; Kathy Clark Suit, North Augusta; Harriett Gaillard Jackson and Louis Jackson, Sumter; Sheri Hollis Jewell, Aiken; Susan Keitt Moss and Michael Moss, Cameron; Gail Linder Allen, Clinton; Ellen Marcus Smith, Bobbie Myers Burgess, Susie Wannamaker Justice, Columbia; James Simons, Holly Hill; Roger Wiles, Hopkins; Kathy Brodie Chaplin, Connie Carter Porter, Martin Gilchrist, Dan Hydrick, and Millie Warren Brunson, Orangeburg.
Other Alumni Events
Alumni State Football Championship Team Recognition
October 21, 2011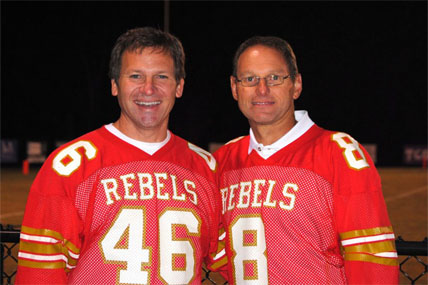 Curt Bair and Rion Groomes sport their "Rebel" jerseys in the above photo.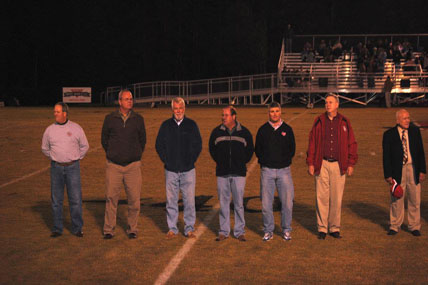 Senior night at Indian Field not only recognized our Senior students participating in Fall sports, but also alumni who were members of State Championship football teams. On October 21, we had five coaches of State Championship teams and twenty-seven team members file onto the field during half-time of the football game. Coaches attending were Thad Ott, Fred Stabler, Charlie Assey, Barry Mizzell and Ley Pickens. The WHA 1974 team was our very first State Championship football team. Representing this team pictured above are Bruce Rheney, Gregg Whetstone, Gregg Edwards, Ben Hare, Michael Salley, and Steve Cook. Shown far right in the picture is Coach Thad Ott. Representing WHA 1982-1985, OPS 1986-1988, OPS 1990 and OPS 1992-1994 State Championship teams were: Ley Pickens, Elliott Dominick, Craig Cook, Walt Turner, Rion Groomes, Curt Bair, Jonathon Huddleston, Harold Albo, Clifford Keefe, Wayne Earley, Chip Summers, Chris Holstad, Andy Brickle, Bussy Argoe, J.J. Judy, Michael Carter, Chan Holman, Warren Albergotti, Richard Lackey, Jason Cote and Rob Clariday. Thanks to everyone for coming out!
Alumni BBQ September 30, 2011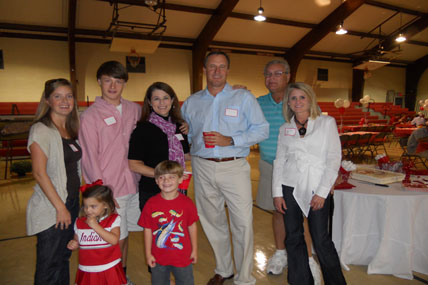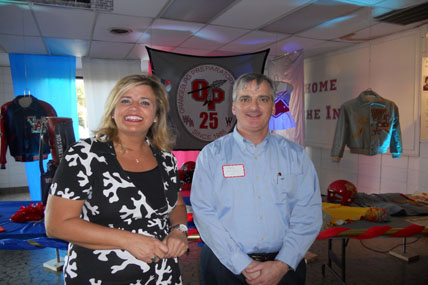 On Friday, September 30, 2011, the Alumni Association hosted an Alumni Homecoming BBQ prior to our homecoming football game. Approximately 140 attended this event. Those attending enjoyed looking through memorabilia decorating the lobby, as well as old yearbooks. Following some good-old Orangeburg BBQ, a video/slide show documenting the history of Wade Hampton Academy, Willington Academy, and Orangeburg Prep brought back many memories. At half-time of the football game, thirteen former homecoming queens were recognized on the field. Returning Homecoming Queens were Ginger Kearse, Reggie Huber Metts, Melissa Ayers Hamilton, Kelley Bryant Mims, Shelly McElhone Sutcliffe, Vicki Bozard Holmes, Nicole Fogle Culler, Susan Gramling Moore, Kimberly Dantzler Harrell, Cassie Nance, Meredith Faulling, Jackie Bryant, and Laura Irick. It was great to see everyone!