Child Development Center
Telephone: (803) 536-0490
168 Prep Street, Orangeburg, S.C. 29118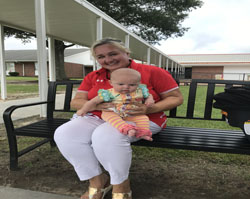 The Child Development Center at OPS offers care and pre-school for children 6 weeks of age through 3-K.  A loving atmosphere where children have plenty of opportunities to learn through play and a comprehensive curriculum  to enhance their development.  In addition to our daily  curriculum, our 3-K classes are able to attend five weekly enrichment classes in OPS lower campus during the school year.
For school aged children we offer after school care that includes homework assistance, so our working parents can better enjoy evenings with their family. 
Our Summer Program for school aged children promises to be filled with activities and outings to keep children active and engaged in learning. 

Beginning January 3, 2022, rates are $135/week for birth up to one year old, and one year old through 3K is $123. Our three year old classes participate in art, music, physical education, and library enrichment classes weekly at the Lower Campus. After school care is provided for Pre K through 5th grade at a rate of $70.00/week . There is a $25 application fee for child care.
For more information, please contact Mrs. June Kemp- Director, at jkemp@orangeburgprep.com or (803)536-0490.